For the world, WWW meant world wide web; for me it means Work. Worth. Wonders.
"Experience of working on more than 1200 websites. Nearly 15 years invested in IT sector. Holding forte in eCommerce website development. Expertise in Payment Gateway industry solutions. Enthusiasm and creativity in galore for Social Media Management."

Would it be justified if I use any other words than Work. Worth. Wonders to describe my profile!

It is through this WWW that I have contributed maximum to the world; in the form of IT solutions, websites, analytics, software applications and consultancy, mobile application ideas, blogging, social media management, hosting, developing, SEO advisory and doing all that which would help leverage an individual or company gain maximum out of IT.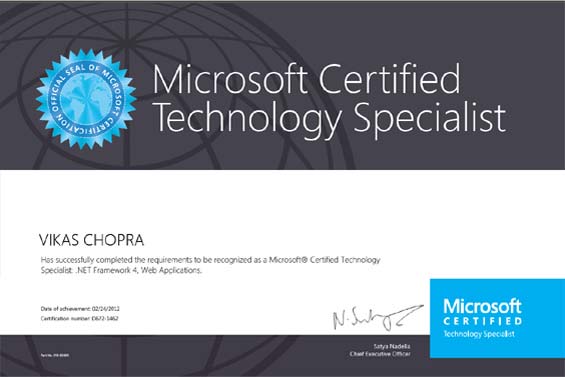 Beginning my journey as a dot net developer, it was my keenness to learn new things and technologies that brought me today to the level of being IT head for a Multi-national company.

Being a thought leader in IT, I started early enough and hence took a lead in being a prime mover for digital communication solutions. While people were busy bragging about their multiple email ids, I took the opportunity to make my own website and work with commitment.

While achievements for me have been many, like I have worked as social media expert for many political parties ad handled the work profile of being a senior IT consultant for TV Channels as well as media groups... my goal has remained the same in last 15 years. I strive to innovate and inspire with cutting edge IT solutions.
I am different. What distinguishes me from the rest is my commitment and agility. If I have promised to provide your business with the most advanced and quality products and services, I will deliver more than your expectations and on time. These solutions, along with the industry's coveted customer support and services will be highly personalized.

I am agile enough to flow in sync with the ever-changing world of technology. I was not even a teenager when Tim Berners-Lee launched the first website in 1991. But today, I am one of the first ones to get information about all that's happening in the world of IT. If a software or application comes new in the market, I am the first one to be reading about it and investing time and resources to train myself in its usage.
Education & Career: To give brief outline about my academic profile, I would like to mention that I had completed my Bachelors in Computer Sciences and Master of Computer Application ( M.C.A) from Kurukshetra University, Kurukshetra. Regarding Experience: Software Professional with 15 years of industry experience in areas like Enterprise software that involves client-server and web based architectures. I have Experience of more than 1200 Dynamic Websites and Web Portals. Development, Maintenance and Support experience which includes: MS-SQL Server 2000/2005/2008/ 2010/2012, My Sql, MS Access, Oracle 9i, Oracle 10g, Oracle 11g ASP.NET, C#. NET, VB6.0, SQL, Telerik, Rad Controls, ActiveX , SVN, Dev Express, VSS, Crystal Reports, HTML, XML, SEO, Dream Weaver, Photoshop, Wordpress, Woocommerce etc. I am Microsoft Certified Technology Specialist ® and Microsoft Certified Professional ®